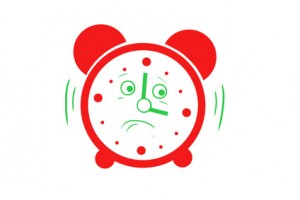 We all know people who are consistently late, miss deadlines, constantly say that they have no time and what's more always appear flustered.  However have you noticed that these same people do not appear flustered at the fact that this has happened before and history appears to be repeating itself?
A very common reason for these people being late is they repeatedly set themselves up to fail, by underestimating the time it will take to achieve the task they set out to complete. They also have a constant sense of misapprehension that it took them longer than they expected when infact they did not stop before they started.  Stop to think about how long it will actually take them based on past experience and decide how they will mitigate any interruptions by protecting the time they have allocated.
Ultimately these people are 'getting in their own way' – they need to be encouraged to make a rational and conscious assessment of how long it will actually take or what could reasonably be achieved in the time available. Their decision needs to be a conscious one, as by getting this right they are securing the foundations of performance excellence and a more rewarding approach to their role. They will start to deliver on time; their confidence will also increase as they deliver what they say they will as they 'get out of their own way'.